The TSAR BOMBA TB8212 watch features an incredible design within the original TSAR BOMBA range. This watch is equipped with a Japanese automatic movement of unfailing overall quality. The robustness of this movement is known in the world of watchmaking as a must. This makes this watch a reliable and solid choice.
If you are looking for a watch with a luxurious and unique style, TSAR BOMBA will be there to meet your expectations. It stands out from traditional designs and is very popular with many luxury brands. Wearing this watch, you will attract admiring glances. It will make your life more interesting and give you an irresistible charm. Feel free to take advantage of this feeling and get used to frequent compliments.
TSAR BOMBA Canada
TSAR BOMBA United Kingdom
TSAR BOMBA United States of America
Dimensions of the TSAR BOMBA TB8212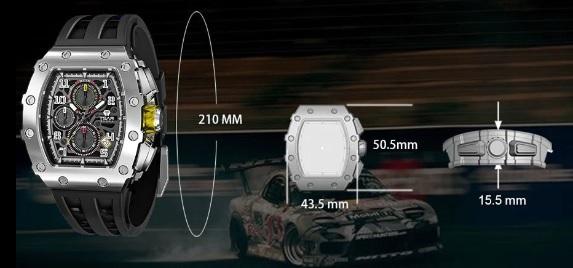 The size of the TSAR BOMBA TB8212 watch is remarkable. Its case measures 50 mm * 42.8 mm. The case is made of 316L carbon fiber. This is a big improvement over previous models which were relatively thick. Now the case is only 13.8mm thick. It offers unparalleled wearing comfort.
The maximum circumference of the watch is approximately 210mm. It is perfectly portable. Through the use of lightweight carbon fiber and ceramic, the overall weight of the watch has been drastically reduced to only around 105g. This feature is really valuable, especially for a watch of this size.
TSAR BOMBA TB8212 in several colors
Discover the collection of unique automatic watches of 2023 at TSAR BOMBA. They are designed to fit various occasions such as business, sports, parties, leisure and entertainment. The craftsmanship is exceptional. It breathes new dynamism into these watches. The skeleton dial design adds a touch of elegance. The curved surface of the case perfectly fits the curvature of the human wrist. It thus offers an optimal wearing experience.
The craftsmanship is remarkable. The case is internationally award-winning. It features an ergonomic structure, colorless anti-reflective coating with highly translucent Morse 9 sapphire crystal. The coating is high tech ion plated is aerospace grade. Ultra-precise CNC cutting technology and quadruple cold diamond grinding process guarantee a flawless finish.
Class A super luminescent coating provides fast light absorption. It provides an energetic glow for 4 consecutive hours. It is environmentally friendly and high performance. This watch is truly the result of remarkable craftsmanship and high-tech materials.
TSAR BOMBA TB8212 display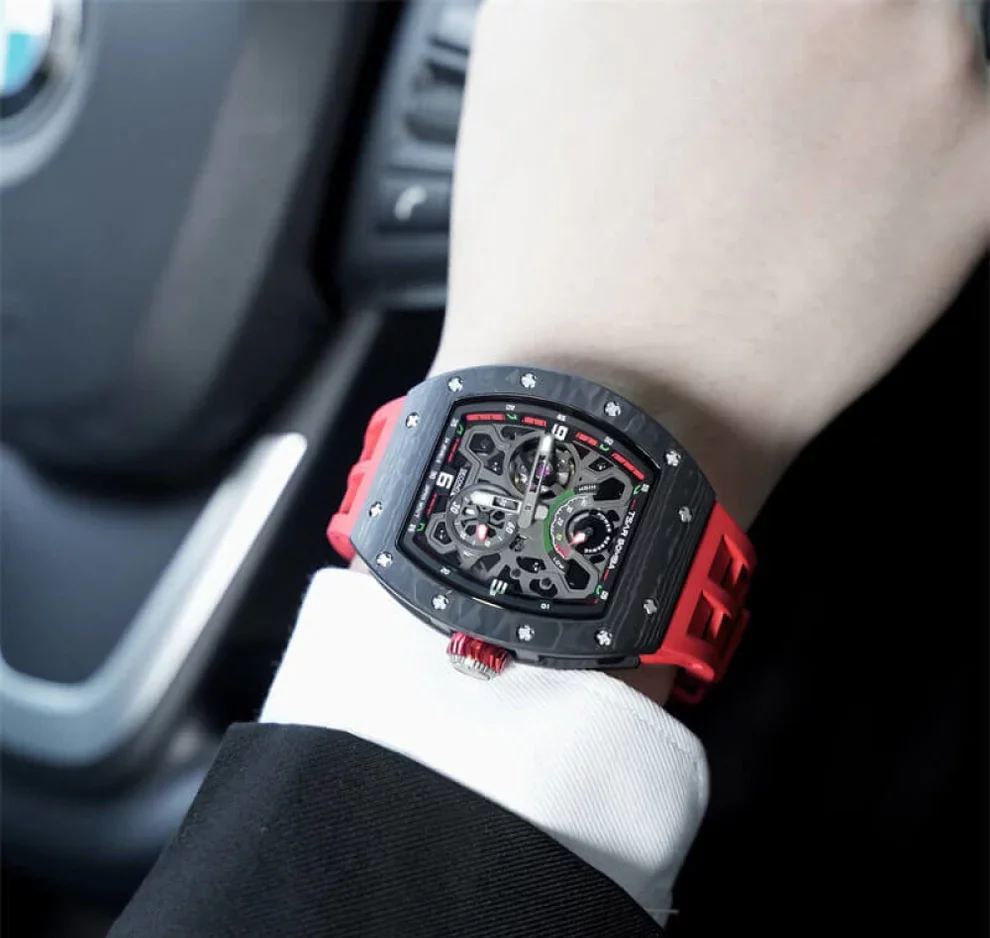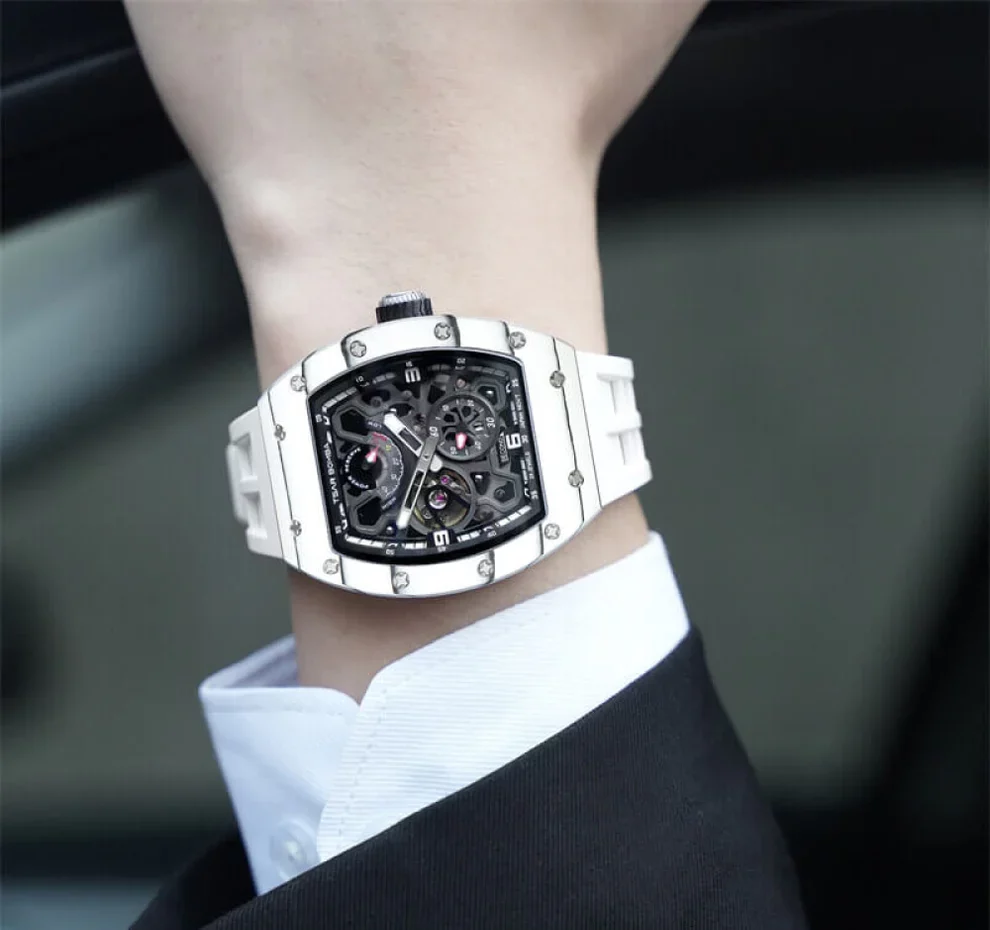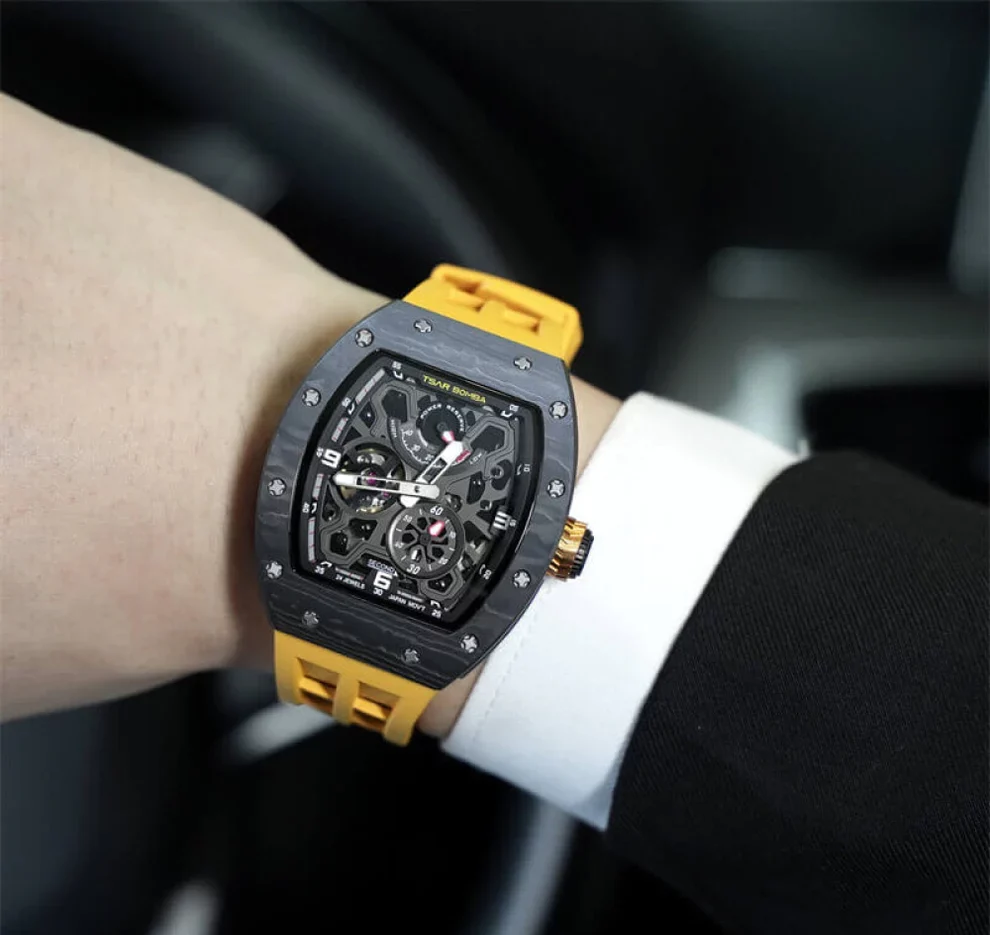 Quality level
The quality is largely at the level of the other models of the brand. The result is perfect as always. Carbon or ceramic dials are extremely strong. It is well known that these materials can last a very long time. Silicone wristbands are very comfortable to wear and provide optimal wrist support. The TSAR BOMBA silicone guarantees very high robustness and a long lifespan.
Like all the other watches in the range, the TB8212 model passes very rigorous tests. These watches comply with the ISO9001 standard.
TB8212: Look, design and functions
The watch is water and scratch resistant. It remains waterproof up to 50 m. This watch is easily worn while swimming and snorkeling. It is not suitable for deep diving or excessively hot water. The glass dial provides strength and durability.
It's designed to fit any setting and event, whether it's business meetings or sporting activities. It is able to adapt in an incredible way to all your activities, be it professional, personal, casual, indoor or outdoor.
The design remains very sober and elegant. It offers a touch of class to any occasion. There are several models to satisfy everyone's preferences.
TB8212 pallet of choice
This TSAR BOMBA is designed according to 4 different models. There are 4 customization colors for this watch. The bracelets can also be alternated in various colors.
These automatic watches are made of carbon fiber. Their design is particularly ergonomic. Each case underwent 390 production steps before the watch went on sale.
The bracelet is made of high quality fluorine rubber resistant to oxidation. It can be stretched in length. This greatly improves the comfort experience.
The movement on the hollow dial is unobstructed. The details are incredible.